FranLink System™
Powered by the Franchise Broker Association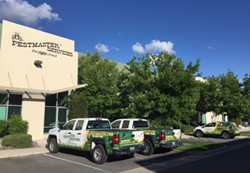 Industry Top 100, #1 Small Business Enterprise Providing Pest Control Services to the Federal Government.
Pestmaster® Services is a pest control industry leader and an authority on Integrated Pest Management (IPM) solutions. For more than 38 years, we've redefined the term "exterminator" by advancing pest and vegetation management services (including bed bug inspections and treatments, termite control, ant control, rodent control, roach extermination, and much more) while maintaining an earnest concern for the environment and the safety of our customers and employees. We've taken charge of a once environmentally hazardous industry, developing eco-friendly options to arrest pest and weed infestations. In the process, we've become so acclaimed that our pest control franchises are sought-after business opportunities.
Our commitment to your health is front and center in all aspects of our pest control practice. Our dedication to the mission is never swayed. Our service technicians are more than exterminators, and our results are always guaranteed.
One of the Most Trusted Names in the Business
A Pestmaster® Services franchise opportunity allows you to begin your first day of business with a recognized name. We have franchisees and branches coast to coast contributing to a company-wide resume brimming with resources. There will always be someone available to help you along the way with the intricate challenges faced in this unique profession through our training and support services.
Our green pest control franchise opportunity allows you to offer pest and vegetation services to:
Residential homeowners
Commercial business owners
Government agencies as a GSA Vendor
Utilities and railroads
Schools
And more
In addition to residential and commercial customers, Pestmaster Services'® Integrated Pest Management (IPM) methods and eco-friendly pest control services featuring green products have been approved to serve governmental agencies. We are one of only 11 companies to have this status, opening up an entirely new field of opportunity for potential franchisees just like you.
Basic Franchise Info
Average Investment: $55000 - $100000
Minimum Investment: $42210 - $86710
To see this information click the button below!
Min. Liquidity: 35000
Years in Business: 1990
Open Units: 40
In-House Financing: Yes
Lead Assist: Yes
Coaching: Yes
Request Information